Private Airport Transportation
EXPRESS PRIVATE AIRPORT TRANSFER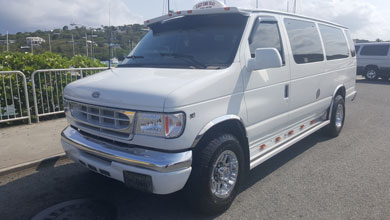 No Waiting for Regular Shared Airport taxis to fill up.

Quick stop at market or convenience store upon request.

Type of Vehicle Assigned Based on Party Size & Availability

For arrivals driver will meet you outside baggage claim.

For departures driver will meet you outside the lobby of your hotel or ferry terminal.
OVERVIEW
Avoid waiting for shared St Thomas airport taxis to fill up, multiple stops to reach your destination and additional baggage fees. Book express private transportation to or from the St Thomas Airport, Cyril E King Airport, with our convenient, non-stop transfer service. Upon request, your driver will provide you with a *1 quick stop at a market or convenience store on the way to your hotel, property or ferry dock. We offer one-way or round trip airport transportation to or from your place of stay and we also service the Charlotte Amalie and Red Hook ferry docks. Enjoy a smooth ride in your private vehicle, serviced by CaribbaConnect, including flight tracking to ensure timely pick-ups and drop-offs. For flight arrivals, *2 your driver will be waiting holding a sign with your name on it.
Our St Thomas airport transfers are ideal for individuals, couples, families, or groups. The number and type of vehicles are assigned based on the size of your party and availability, and all of our drivers and vehicles are fully licensed and insured. Best of all, unlike St Thomas airport taxi services that charge for bags and carry-on items, there are NO BAGGAGE OR LUGGAGE FEES with our service.
Use our easy online form to check availability and book your airport transportation now!
*1 Please note that for the quick market stop, the driver will give you up to 10 minutes to complete your shopping.  If you use more than 10 minutes, the driver will charge an additional rate to be paid directly to your driver.
*2 Please keep your cellphone on as soon as you land.  Although the driver will make every effort to stand outside the baggage claim and hold a sign with your name, due to construction and a lack of parking space at the airport, the driver may need to contact your cellphone to arrange your meeting point.

Services offered: One Way Arrival, One Way Departure, Roundtrip
St Thomas Airport Code: STT
St Thomas Virgin Islands Airport Name: Cyril E King Airport
OTHER TRANSPORTATION SERVICES
People Who Viewed CLASSIC EXPRESS PRIVATE AIRPORT TRANSPORTATION Also Saw:


Important Note: SAFETY FIRST!


Please note that it is now required to wear a mask in the US Virgin Islands to get any service including taxis, tours and entering establishments.  Please do have your masks on when you come in for your safety and the safety of your service providers.  Thank you for your understanding and cooperation at this time.
HIGHLIGHTS
Serving St Thomas Airport, Cyril E King International Airport
Express Private Airport Transportation serviced by CaribbaConnect
Quick Stop at Market or Convenience Store Upon Request
One-Way or Round-Trip
Non-Stop Service for Hotels, Private Villas, Vacation Rentals, and More
Non-Stop Service to reach Ferry Terminal for St. John and BVI destinations
No Baggage or Luggage Fees
No Waiting for Regular Shared Airport taxis to fill up
Perfect for Individuals, Families, Couples, and Large Groups
Type & Number of Vehicles Assigned Based on Party Size and Availability
BEFORE YOU BOOK
Yes, this is a Private Service.  You will not have to share this vehicle with anyone else.
You will have up to 10 minutes for the quick stop at the Market or Convenience store.  If you need more time, you can discuss the additional rate with your driver.
Gratuities for your driver are not included in this price (As a guide, a 20% gratuity is recommended)
Please keep your cellphone on as soon as you land so your driver can contact you.  
INCLUSIONS
One-way or round-trip service to or from St Thomas Airport
Vehicle for private transportation
Quick Stop at market or convenience store upon request
EXCLUSIONS
Gratuities for the driver not included in the price (As a guide, a 20% gratuity is recommended)
CANCELLATION POLICY
Service must be canceled within 24 hours of your scheduled pick-up. If your flight is canceled, please contact your driver to reschedule or cancel service and receive a refund. If you booked a roundtrip, you may only cancel 24 hours prior to the first leg of the trip. As a roundtrip is considered one service, you may not cancel any individual part of a roundtrip. All contact details provided upon confirmation of your booking.