Windward Passage Hotel: Area Guide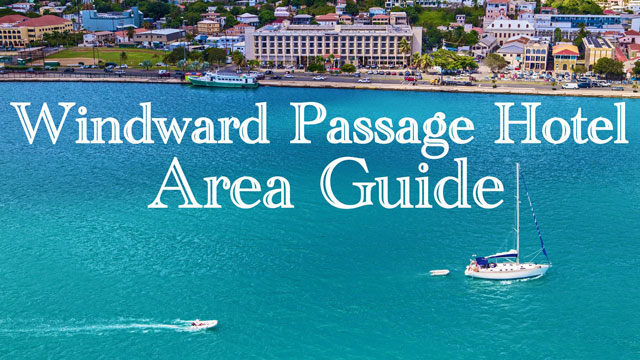 Property Overview
One of the many advantages of staying with us at Windward Passage Hotel is our location provides easy access to so many of the unique things to do in St. Thomas. Within a reasonable walking distance, you'll find some of the best St. Thomas has to offer including three of the main Shopping areas, a wide selection of restaurants, the Skyride to Paradise Point, and even ferry access to neighboring islands. At Windward Passage Hotel, we're happy to direct you to all the wonderful things to do in St. Thomas, so we've put together an area guide of what's close by to simplify your vacation planning.



- Location & Transportation
- Places to Explore
- Things to Do
- Dining



Save yourself from the hassles associated with shared airport transfers such as waiting for the airport taxi to fill up, crowded vehicles, and multiple stops to get to your destination. Delight in a seamless island arrival with affordable,convenient, and friendly airport transportation that begins with a personal driver waiting for you at baggage claim. Non-stop direct transfers are available from the St. Thomas airport right to Windward Passage, and a stop at the market or convenience store is available upon request. Behold the superior experience of personalized service with our Private Airport Transportation.

-- Back to Top Menu


Places to Explore

Downtown Charlotte Amalie- Because we are conveniently located in the downtown area, shopping and historical sites are all within a 10 minute walk of the hotel. The premier shopping district of St. Thomas is located in downtown; you'll find high end jewelers, local vendors, souvenir stores, and even an antique shop dedicated to recovered buried treasure. The best of St. Thomas shopping and the most selections are all at your disposal. The downtown area has many dining options for you to experience while you shop, and all are easily accessible from Windward Passage St Thomas for a nice dinner in town. Charlotte Amalie is also rich in Danish history; immerse yourself in the unique history of St. Thomas with a visit to notable historical sites such as Fort Christian and Blackbeard's Castle on a self-guided walking tour. From Windward Passage, it's easy and convenient to experience all that downtown Charlotte Amalie has to offer.


Frenchtown- Frenchtown is a local fishing village with lots of charm. Local fisherman bring in the fresh catch early in the mornings which can be bought for a fantastically fresh seafood dinner. Frenchtown also features many of the popular St. Thomas restaurants and is a great area to experience after sunset when the streets are alive with people visiting the village to dine. Frenchtown is a 10 to 15 minute walk from Windward Passage, depending on the area you're visiting, and has dining options from local bars to high-end seafood dinners.


Yacht Haven/ Havensight- The waterfront of Charlotte Amalie harbor is paved with a wide sidewalk leading to Yacht Haven Grande, so you can enjoy views of one of the world's most picturesque harbors on a leisurely stroll to more of the shopping and dining areas in St. Thomas. Yacht Haven Grande is the first destination, about a 20 minute walk from the hotel, with stores such as Louis Vuitton and Gucci. YHG is also a premier yacht harbor where you'll see some of the world's largest yachts in port during certain times of the year. The dock is a great photo spot, and the open-air restaurants on the water are perfect for sunset dining. Another 5 minute walk from Yacht Haven Grande and you'll arrive in Havensight, one of the cruise ports in St. Thomas that hosts dozens of stores featuring apparel, jewelry, souvenirs, and locally made products. Dining options are available in Havensight as well featuring burger joints, a BBQ grill, and a sushi and Chinese restaurant. Havensight also has a post office, drug store, and market to meet your needs. Just across the street from Havensight are pub dining options and the St. Thomas Skyride to Paradise Point. The tram to Paradise Point is a great way to experience the fantastic views of Charlotte Amalie Harbor and leads to shopping, dining, and even a bird show, all at Paradise Point, located at the top of the mountain. The St. Thomas Skyride is open during the day when cruise ships are in, but they also offer discounted rides on certain evenings for incredible sunset views and great happy hour specials. If you're up for a stroll, the best of the entire Charlotte Amalie area is all within reach from Windward Passage Hotel St Thomas.


Ferry- Directly across the street from Windward Passage is one of two ferry terminal locations in St. Thomas, making trips to St. John and the British Virgin Islands easy and convenient. The schedules to/from Charlotte Amalie are limited, and some of the British Virgin Islands can only be access from the Red Hook ferry. If the schedule from Charlotte Amalie does not work with your itinerary, consider using the terminal for a one-way transport or taxi to Red Hook for more options.

-- Back to Top Menu


Things to Do
Through our activity and transportation booking service, CaribbaConnect, you can experience all the top things to do in St. Thomas with just one click. Visit our booking site to hit the many St. Thomas attractions and excursions available for Windward Passage Hotel guests.


Sightseeing

- Island tours pick up right from

Windward Passage Hotel

an

d are a must for experienc

ing top

St. Thomas

attractions

. Hit th

e highlights of island views and photo ops on a St. Thomas Sightseeing Tour

or Private Sightseeing Tour. Check out our Local Guide to Exploring St. Thomas

for all the ways to see the top sites in St. Thomas.


Sailing & Boating- It's easy to add some adventure to your St. Thomas exploration on a sail or boating charter for a different view of the island, one from the beautiful Caribbean Sea. That is why you're here after all! Enjoy the best St Thomas snorkeling while visiting our sister islands on a Day Sail to St. John or passport ready travellers can experience Jost Van Dyke in the British Virgin Islands on our Full Day Sail to Jost Van Dyke. Discover the many ways to enjoy the Caribbean Sea and surrounding islands with our Local Guide to Sailing and Boating Excursions.


Parasailing- Experience the island from a bird's-eye view on this thrilling St Thomas Parasailing excursion that combines powerboating, parachuting, ballooning, and gliding all into one unforgettable adventure in the Caribbean Sea.


Ecotours- Explore the hidden beauty of St. Thomas on an ecotour. Ecotours allow you to discover St. Thomas gems that can only be experienced on an ecotour such as the St. Thomas mangrove lagoon on a Mangrove Lagoon and Cas Cay Kayak, Hike, and Snorkel Ecotour. These tours venture to marine sanctuaries for a unique encounter with nature. See all your ecotour options with our Local Guide to Ecotours.


Shopping- Experience premier shopping destinations and make the most of duty free jewelry and luxury brands on a Shopping and Sightseeing Tour or Private Shopping Tour. St. Thomas offers incredible shopping deals and selection on jewelry, perfume, liquor and tobacco, electronics, and more. Discover the many St. Thomas shopping options and information on duty free allowances in our Local Guide to St. Thomas Shopping.


-- Back to Top Menu


Dining
On-Site
Our on-site Windward Restaurant serves standard breakfast fare in the morning and reopens for dinner. Our dinner menu features burgers, pasta dishes, seafood and steak options, and delicious desserts while the bar is ready to mix up your favorite cocktail.


Windward Restaurant
Breakfast- 7:00 am - 11:00 am
Dinner- 6:00 pm - 10:00 pm
Bar- 5:00 pm - 10:00 pm
Off-Property
If you're looking to venture out to one of the many dining areas on island, use our handy dining guides to help you choose the restaurant that's sure to hit the spot.

While the whole island can be explored with a taxi ride or rental car, the convenience of Windward Passage Hotel's downtown location puts so many of the top things to do in St. Thomas right within walking distance, saving you money on taxi fares and navigation stress. Planning your St. Thomas vacation should be fun and exciting, and we want to help you have the best possible visit to St. Thomas, experiencing all we have to offer within a short reach of our hotel. We look forward to your visit!

Vedora Small

Front Desk Manager
Windward Passage Hotel


CaribbaConnect Mentioned Excursions:
Full Day Sail to Jost Van Dyke
Mangrove Lagoon and Cas Cay Kayak, Hike, and Snorkel Ecotour