Insider Review: Full Day Sailing Tour to St John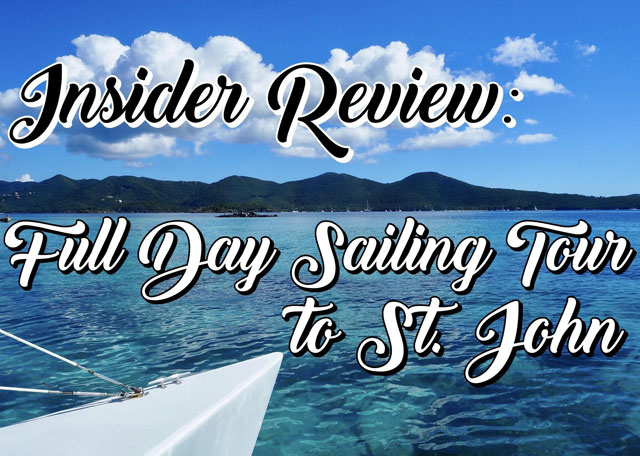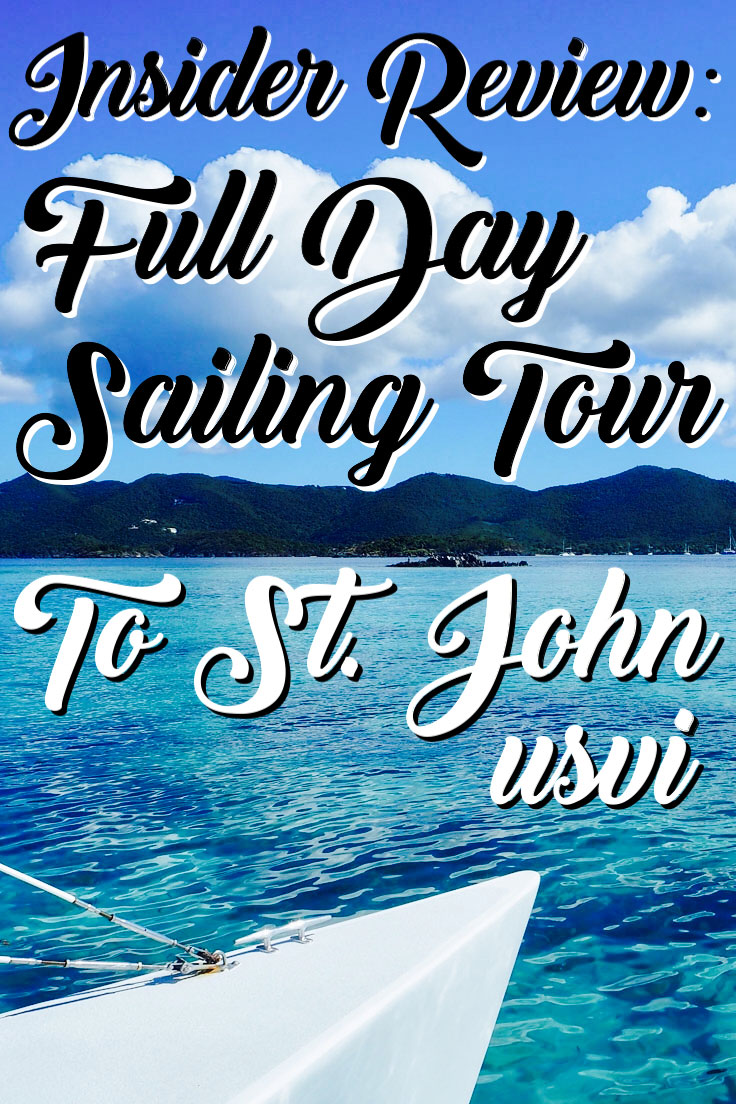 Ask any islander about "island fever", and they'll tell you it's a real thing. As much as we love our island home, sometimes you just need to get off the rock for a little while. Believe it or not, time on the water is often the perfect cure. My husband and I were in need of an island fever remedy, and a day of snorkeling, magnificent island views, and sailing over to our sister island on a Full Day Sailing Tour to St. John was just what the doctor ordered!
Our sail picked up from Sugar Bay Resort's beach. It was a beautiful morning, and we walked along the beach while the crew was preparing the sailboat. All we were required to bring was sunscreen and towels; all food, drinks, and snorkeling gear is included! The crew they came in with a dingy and shuttled us to the boat in small groups.
Our captain, Andrew, did a brief and entertaining overview of the boat and itinerary for the day. He introduced the first mate, Taylor, and explained that she'd be coming around with breakfast of muffins, fruit, and juice as we make our way to St. John. First selfie of the day, then we took off!
It didn't take long to realize the water was completely still, and there was no wind! Captain Andrew made a joke about us missing a key ingredient for our sail and explained that we'd be motoring for most of the trip. Because we were motoring, we'd be able to take a different route to St. John, visit some stops that would otherwise be too far in rough seas, and possibly spot some whales as they had recently been sighted on the route we were taking!
>> Click Here to book the St. Thomas Full Day Sailing Tour to St. John Now! >>
While we didn't have any whale encounter this time, the views of the British Virgin Islands were breathtaking! I've never experience a day on the water quite this calm, and the stillness allowed clear views for miles and miles. Everyone onboard was commenting on how beautiful the views were.
On our journey over to St. John, we were able to see the neighboring islands of Jost Van Dyke and Tortola and get up close with remarkable islet, Carvel Rock (above) which was featured in a challenge on the Amazing Race.
After we rounded the corner at Carvel Rock, it was straight views of St. John- not a wave in sight!
>> Click Here to book the St. Thomas Full Day Sailing Tour to St. John Now! >>
Our first snorkeling stop was just off the coast of St. John at Whistling Cay. Captain Andrew demonstrated how to use the provided snorkeling gear, set the safety boundaries, and went over some of the things we might encounter under the sea.
Everyone got geared up, and we had an hour to go exploring in the calm, clear water. Almost immediately after jumping in, I spotted a stingray combing the seafloor for food!
The coral was so vibrant and healthy all along Whistling Cay!


>> Click Here to book the St. Thomas Full Day Sailing Tour to St. John Now! >>
After our first snorkeling stop, the bar was opened for business, and Taylor served the first round of painkillers or the cocktail of our choice as we set off. The next stop was Maho Bay where we settled in for a delightful sandwich and salad bar lunch.
The perfectly pristine and palm-tree lined shore of this National Park beach was just a short swim from our sailboat, and Captain Andrew guaranteed sea turtle sightings to anyone who made the journey with snorkel gear.
After a light lunch with a postcard-perfect view, I dove right in!
A local tip for all you snorkelers out there- my rashguard always saves me from a sunburn after a full day in the sun. They were sold on board as well, and though our sailboat was well-equipped with a wonderful shaded awning, almost everyone indulged by the second stop for extra protection.
>> Click Here to book the St. Thomas Full Day Sailing Tour to St. John Now! >>

My first encounter was with a remora (also known as a suckerfish) that was about 3 feet long swimming around our boat.
And there's our promised sea turtle! Turtles are always my favorite snorkeling encounter. They have such a peaceful presence about them.
After an hour at Maho, we set off for our final snorkeling stop of the day.


>> Click Here to book the St. Thomas Full Day Sailing Tour to St. John Now! >>


Our journey had no shortage of "wow" moments like this view of Trunk Bay!
Our last stop was Lovango Cay, a small island with a few inhabitants located between St. John and St. Thomas.
(Looking back at St. John) What a view!

>> Click Here to book the St. Thomas Full Day Sailing Tour to St. John Now! >>


The water around Lovango Cay was so clear! Our captain explained that Lovango is known as the place to see tropical fish, so it was time to see for ourselves!


A variety of bright coral species like this Elkhorn Coral surrounded the island!


And once again Captain Andrew knew his stuff as we spotted color parrot fish all over and even swam with this school of blue tang!

>> Click Here to book the St. Thomas Full Day Sailing Tour to St. John Now! >>


The snorkeling at Lovango did not disappoint! In fact, each snorkeling spot of the day was fantastic and offered its own unique sights and creatures to encounter.
After our snorkel, we took some time to just layout on the trampoline, soak up some sun, and take in the amazing island views! What a day!

At one point on the sail, a fellow passenger said "Everyone look at where we are! How lucky are we?!" That's exactly how I felt as we journeyed back to St. Thomas, so lucky. With a full day in paradise, beholding spectacular views, having majestic encounters with sea turtles, and being pampered with fresh cocktails, who wouldn't feel lucky!? This is one day trip that is sure to deliver a feeling of sailing away to paradise, no wind required!
Sail Away,
Megan
CaribbaConnect Mentioned Excursions: