A Local's Guide to St. Thomas: Kid-Friendly Things to Do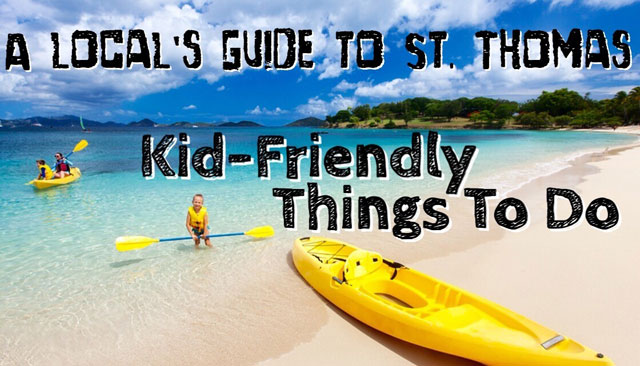 When my wife and I decided to take our first family vacation after our son was born, I was given the task of making the hotel arrangements. Being the thoughtful husband that I am, I was so excited to show my wife the great deal I scored us by adding a couple's massage to our room at a discounted rate. I'll never forget the smirk on her face as I'm excitedly telling her all about our accommodations and this luxurious spa experience that made me stop and ask why she was giving me that look. She smiled and said, "Honey who will watch our child while we are being so luxurious pampered?"-Oh. Traveling with children changes things! Vacation memories include a lot more characters and animal encounters than spa moments and romantic dinners, but the adventures, laughter, and joy that I see in my son are much more fulfilling. So parents, have no fear for your St. Thomas vacation. There are so many exciting things to do in St Thomas that your kids will love, and as an island parent, I'm happy to give you the insight you need to plan your fun-filled family vacation:
Baby-Friendly Excursions (0 and Up)-
These family-friendly St. Thomas excursions are low-maintenance, shaded, and breezy, all the things your baby needs for the perfect outing for infants, toddlers, and of course, kids to adults.
Sightseeing Tour- Take a safari bus ride through the island, hitting all the top sights and photo spots St. Thomas has to offer. With shaded cover, lots of breeze, fun island music, and beautiful stops, this excursion is ideal for families with babies. A private version of this tour is available for families travelling in large groups or for a fully customizable itinerary to go at your own pace.
Sightseeing and Beach Stop Tour- Get all the best of the sightseeing tour with an added stop at one of St. Thomas' best beaches. Pack a little tent or find shade under a beachside tree for you and your baby to enjoy a relaxing afternoon of fun at the beach after a breezy safari ride filled with photo ops for your family to always cherish.
Half-Day Sail and Snorkel- Baby may not be ready for a snorkel trip, but they will love the sail under shaded awnings and a fun day at sea. Mom and dad can take turns exploring under the sea and partake in the open bar on this 3 hour sail. Baby's first sail will be a vacation memory that will last a lifetime.!
Half-Day Powerboat Charter- For parents looking for a bit more adventure, a powerboat excursion will provide shade for your baby as you hit the high seas for some island hopping. Itineraries are customizable, so you can choose a pristine sandy beach for baby to play for a while, hit a great lunch spot for mom and dad, and maybe add in some snorkeling stops. St. Thomas boat charters are private too and perfect for the whole family to be together on your schedule, and at 4 hours, there's even time for an afternoon nap.
Child Friendly Excursions (5 and Up)-
As your child gets a little bigger so can your vacation adventures. Suitable for ages 5 and up, these St. Thomas excursions have the excitement and safety required for your young child to have his or her first adventure.
St. Thomas Mangrove Lagoon Kayak and Snorkel Ecotour- On this 2.5 hour tour, your child will get a rare encounter with the natural wildlife of the islands including seabirds, tropical fish, and unique marine life as you Kayak through the St. Thomas mangroves. Snorkel gear is provided if you want to guide your little one to peek under the water for a first snorkel. 6 and under are free on this Eco Tour where the whole family will encounter the natural beauty of the area and an opportunity to experience St Thomas snorkeling.
Private Sightseeing and Shopping Tour- Let mom hit the duty free St. Thomas deals with a Shopping break while your personal driver brings dad and the kids around the island for some sightseeing. Hit the stops that will excite your child the most such as the mega souvenir store at Mountain Top featuring dozens of pirate replicas for great photo ops and pirate encounters on this fully customizable private tour.
Half-Day Sail and Snorkel with Lunch- This 4 hour sail will keep your child engaged as the whole family sets sail from St. Thomas. With covered awnings for shade, exciting views of uninhabited islands, and fantastic snorkeling stops along the way, your child will feel like a true sailor! Lunch is provided for the whole family and the open bar is ready and waiting for mom and dad. All you need to have is your swimsuits and towels on this hassle-free St. Thomas Sailing adventure that'll make lasting memories for the whole family.
Private Beach Hopping Tour- Brought the whole family on this St. Thomas vacation? This private beach hopping tour is a great group excursion to fit the whole gang! With a customizable itinerary to include 3 of the best beaches in St. Thomas, it's suitable for small families as well who are just looking for a full day of beach adventuring. Choose your St. Thomas beaches based on amenities or snorkelling stops, whatever fits your family's needs. You call this shots on this family beach tour.
Pre-Teen-Friendly Excursions (10 and Up)-
It takes a lot to get a pre-teen's attention, and these excursions are sure to do the trick. Whether you have a young history buff or an explorer, there are plenty of exciting St. Thomas excursions to suit your pre-teen's unique interests, and since they're suitable for ages 10 and up, the whole family will enjoy!
Kayak to Bird Island- If you have a nature-loving pre-teen, they'll love this early evening kayak to Bird Island where you'll encounter the exotic seabird species that flourish throughout the USVI in their natural habitat. As a bonus, the St. Thomas sunset is your backdrop for a tranquil afternoon excursion communing with nature.
Sightseeing, Shopping, and Beach Stop Tour- Fill the day with a bit of everything to keep their interest going with highlights of the Best St. Thomas Sights and premier shopping to spend some allowance money. Finish the tour with a stop at one of the best beaches in St. Thomas and enjoy some family fun in the sun or a bit of beachside relaxation while the kids play in the crystal Caribbean Sea. This excursion is ideal for families with kids of multiple ages.
St. Thomas Mangrove Lagoon and Cas Cay Ecotour- Kayaking, snorkeling, and hiking await for your adventuring pre-teen on this 3 hour fun-filled family excursion. Your family will explore the exotic St. Thomas mangroves and encounter the unique wildlife that inhabits above and below the sea. Explore the uninhabited Cas Cay where your family can say they've hiked a deserted island on vacation! All safety and snorkel gear is included to have a real family-friendly adventure!
Sail to St. John- Take a full day sailing trip to our sister island of St. John where the family can take a break from technology and take in the incredible island views from the catamaran. Onboard there are shaded awnings for cover, expansive decks for soaking up sun, plenty of snacks for the kids, and a very open bar for the parents. Explore the seas as a family snorkeling the National Park protected waters of St. John, full of vibrant coral and abundant marine life. With plenty of adventure and photo-ops, this is an excursion the whole family will love!
Full Day 32ft Powerboat Charter- Island-hopping is the way to go for a full day of family adventuring at sea. If your family is passport-ready, explore the British Virgin Islands with destinations such as snorkeling the exotic Baths at Virgin Gorda or soaking up the sun at White Bay, Jost Van Dyke. No passports? Not a problem! Your family can choose to explore the cays around St. Thomas or hit some of the famous National Park beaches in St. John. The best part is the itinerary is up to you to plan as a family for an adventure-filled day that's sure to please everyone!
Teen-Friendly Excursions (15 and up)-
As young adults, teens have expectations for their St. Thomas vacation just as you do, so you'll want to plan excursions that they'll get excited about. Whether your teen is a shopper, an athlete, or a beach bum, there are St. Thomas excursions that will have your teen putting away their phone and gearing up for family fun!
Shopping and Sightseeing Tour- Your teen will love shopping the tax and duty free deals in St. Thomas! Ride an open air safari to the best photo stops in St. Thomas for those coveted family vacation memories, and hit the best of St. Thomas shopping where you'll find deals on jewelry, apparel, perfume, make-up, and souvenirs. Score those big deals as a family on this shopping tour!
Sail to Jost Van Dyke- If you and your teen have valid passports, a full day sail to Jost Van Dyke is just what you need for a day of excitement and relaxation at sea. Enjoy breakfast on board and snorkel the incredible reef stops along the way to the British Virgin Islands. Do some shopping and enjoy some Caribbean fare at Foxy's in downtown Jost Van Dyke. Then it's a quick sail over to White Bay where you and your teen can enjoy a leisurely swim or some lounging at one of the most beautiful beaches in the Virgin Islands. Drinks flow at the open bar on board for 18+ passengers and the famous Soggy Dollar Bar awaits on shore with a classic Painkiller cocktail. This excursion offers the perfect balance of fun in the sun and relaxation at sea for the whole family.
St. Thomas Mangrove Lagoon and Cas Cay Ecotour with Lunch- This 5 hour excursion is filled with eco-exploration on a kayak, hike, and snorkel tour through the St. Thomas mangroves. Experience the one-of-a-kind St. Thomas snorkeling spots found within the mangrove lagoon and hike the uninhabited Cas Cay to its volcanic cliffs and geological blow-hole. Lunch is even included on your adventure. Enjoy kayaking through the crystal clear Caribbean through this exotic St. Thomas location with the whole family.
35ft Powerboat Charter- With accommodations for up to 12 passengers, this powerboat is perfect for a large family or chaperoning a senior trip. Passport-ready travellers can explore the British Virgin Islands and hit famous party spots like the famous floating bar, Willie-T's, or world-class snorkeling at the Indians. No passports required to explore the cays throughout the USVI or the famous National Park beaches of St. John. This 8-hour St. Thomas boat rental is an action-packed, customizable day at sea!
No one knows your children or your family better than you do. These age ranges are my recommendations, but you may find some excursions to be suitable for your younger kids. If your kids are anything like mine, they are full of surprises and always teaching something, like how to be a kid again on vacation. St. Thomas is full of exciting excursions to create memories that will last in your family for years to come. So pack your camera, and get ready to share laughter and adventure with your kids on an unforgettable St. Thomas family vacation.
Be sure to check out our Excursions page for the best excursions on St. Thomas! If you have any questions about kid-friendly things to do or any inquiries about the island, call or e-mail us for authentic local insight!
Be a Kid Again,
Amit
CaribbaConnect Mentioned Excursions:
Private St. Thomas Sightseeing Tour
St. Thomas Sightseeing and Beach Stop Tour
St. Thomas Mangrove Lagoon Kayak and Snorkel Ecotour
Private St. Thomas Sightseeing and Shopping Tour
Half-Day Sail and Snorkel with Lunch
St. Thomas Sightseeing, Shopping, and Beach Stop Tour
St. Thomas Mangrove Lagoon and Cas Cay Ecotour
Full Day 32ft Powerboat Charter
St. Thomas Shopping and Sightseeing Tour
St. Thomas Mangrove Lagoon and Cas Cay Ecotour with Lunch