A Local's Guide to St. Thomas Boating and Sailing Destinations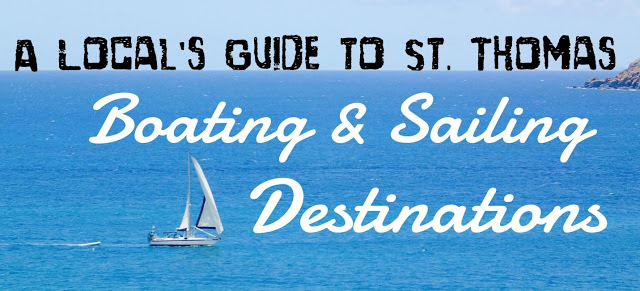 We've all heard the old saying, "It's not about the destination; it's about the journey." I think a captain must have said that because when it comes to being on a boat, the journey is just as thrilling as the destination. That being said, you still have to decide where you want your destination to be from your St. Thomas Boating and Sailing trip.
Where do you start when there are so many destination options? The most important piece of information you need to know before booking your St. thomas boat charter is whether or not you'll need a passport for your ultimate destination. The borderlines may not be so apparent on the seas, but trust me, they're out there and just as important as land borders.
No passport? No problem! There are lots of beautiful and exciting destinations in the U.S. Virgin Islands for you to visit:
St. John- Visiting the sister island of St. Thomas on a boat rental or sailing trip is the more popular option for a passport-free day on the water as it is a direct trip and can be done on sailboat or powerboat excursions. Most of the beaches on St. John are protected by the National Park Service, so the coral and sea life are healthy, providing excellent snorkeling spots right off the boat. Mooring balls are available just off shore, and the beach is a short swim away. St. John is the best destination option for land-lovers looking to break up the day with shore time, and there are many ways to experience St. John from the water. Public sails featuring an open bar and potential new friends can be booked as a Half-Day Sail or a Full Day Sail. Private Tours are perfect for making memories with your family, connecting with friends, an intimate day trip for couples, or even a bachelor/bachelorette party. Private sails are available for parties of 6 or less with a Full Day All-Inclusive St. John Sail or on a Half Day Sail with Sunset Option. Powerboating trips are available for parties of 8 or less on a 32ft Half-Day or 32ft Full Day Powerboat Charter and parties of 12 or less on a 35ft Boat Rental. Large Parties can book a 44ft Power Catamaran for up to 32 passengers for an unforgettable day on the water to St. John.
Cays and Smaller Islands- Did you know the U.S. Virgin Islands is made up of about 50 cays and islands? Cays, pronounced "keys", look like tiny islands or large rocks sticking out of the ocean. These cays and smaller islands off the coast of St. Thomas are surrounded by healthy coral reef growth and abundant wildlife which make for excellent stops on your boat charters or sailing excursions along with a great opportunity for some incredible snorkeling in St Thomas. Popular spots for St. Thomas Full Day Sails, Half-Day Sail and Snorkel trips, and Private Day Sails are Lovango Cay, Turtle Cove off of Buck Island, and Christmas Cove off of Great St. James Island (where you'll find Pizza Pi, the Caribbean's one and only pizza delivery boat). If you're considering a Private Powerboat Excursion, you can customize your trip to visit some of the more remote cays for a truly unique experience on the water. Any of the private trips available to St. John can be customized to visit small islands and cays.

Sunset Sails- You've heard of a sail to nowhere right? St. Thomas Sunset Sails are exactly that except the Caribbean Sea at sunset can hardly be called "nowhere". If your idea of a sailing trip is a romantic and relaxing evening at sea, cocktails and hors d'oeuvres a-plenty, a sunset sail is just what the doctor ordered. A Private Half Day Sail with Sunset is also available for a more intimate experience with a sailbooat all to yourselves.

Valid passport? Welcome to the BVI!


British Virgin Islands- Like the U.S. Virgin Islands, the BVI are also made up of many cays and islands. If you're set on a sail from St. Thomas, a Jost Van Dyke Tour is your best destination as it is the closest of the British Virgin Islands and the perfect distance for a fun-filled day on the water, complete with shore time at the famous White Bay and Soggy Dollar Bar, and a Private Jost Van Dyke Charter provides a perfect day excursion when traveling with a small group. If you're down for a Powerboat Trip, the sea's the limit for your destination! Customize a Half-Day or Full Day Private Powerboat Charter to include popular BVI spots to hit from a St. Thomas boat rental trip such as the Baths at Virgin Gorda, Cooper Island, and Willie T. (the famous floating bar and restaurant) for a powerboat party at sea featuring the best of the British Virgin Islands!
A day at sea is never a day wasted, and one of the best parts of booking a St. Thomas boating or sailing trip is your captain knows the seas and will ensure you hit the best spots for your buck!
Be sure to check out our blog article on A Local's Guide to St. Thomas Sailing and Boating Tours, and visit our Boating & Sailing page to book the best boating and sailing excursions on St. Thomas! If you have any questions about the sailing and boating destinations in St. Thomas or any inquiries about the island, call or e-mail us for authentic local insight!
Enjoy the Ride,
Nishant


CaribbaConnect Sailing and Boating Trips:
Half-Day Snorkel and Sail in St. Thomas
Full Day All-Inclusive Day Sail
Private Full Day USVI Sail with Sunset - Caribbean Lobster & Premium Open Bar
Private Full Day USVI Sail with Sunset - Pizza Pi VI Dinner Stop & Premium Open Bar
Private Full Day USVI Sail - Pizza Pi VI Lunch Stop & Premium Open Bar
Private Half Day Sail with Sunset Option - Pizza Pi VI Stop & Premium Open Bar
Full Day 35ft Powerboat Charter
Full Day 32ft Powerboat Charter